According to Internet chatter and Youtube video postings a large group of 'Black Bloc' anarchists and radicals from Seattle, Oakland, Chicago, Cleveland and New York City has mobilized and formed what they call the "RNC Welcoming Committee," which will protest the Republican National Convention in Tampa starting August 26th, 2012, "Blood Will Flow in the Streets".
The black bloc, comprised of self-proclaimed anarchists, radicals and revolutionaries, traditionally dress in all black and want nothing more than to burn the system in the U.S. to the ground. And they use violence to do it.
Black Bloc terrorists game plan for the Tampa RNC includes firebombing cops cars, cop houses and cops. These Black Bloc dirballs coming to the Tampa RNC include ex-cons and convicted felons.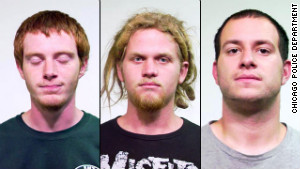 Three men charged with conspiring to commit domestic terrorism during the NATO summit
were plotting to attack President Obama's Chicago campaign headquarters, the Chicago mayor's home and police stations,
authorities said Saturday. A police investigation that began early this month revealed that the three suspects, Brian Church, 22, of Fort Lauderdale, Florida; Jared Chase, 27, of Keene, New Hampshire; and Brent Betterly, 24,

Oakland, Fla.

, are "self-proclaimed anarchists" and members of the "Black Bloc" group who traveled together from Florida to Chicago to commit violence as a protest against the NATO summit, authorities said in a statement.
The three men were charged with material support for terrorism, conspiracy to commit terrorism
, and possession of explosives or incendiary devices. The charges include plotting to blow up
President Obama
's campaign headquarters, Mayor
Rahm Emanuel
's house and police stations with Molotov cocktails and kill cops, "did you ever see a cop on fire LOL".
Did you get that, these dirtballs came from Florida to fire bomb cops in Chicago, their Florida pals will not have so far to go to link up with other Black Bloc terrorists in Tampa Fl on August 26th.
VIDEO ABOVE, BLACK BLOC TERRORISTS THREATEN VIOLENCE AT TAMPA RNC: Anonymous Warning To Mayor Buckhorn And RNC Protesters Black Bloc Will Take Our Battle To The Streets of Tampa, Blood to Flow. The video includes scenes of Occupy Wall Street protests and police violence. Much of the video is of a person wearing a Guy Fawkes mask walking outdoors near cabbage palms – the video is altered by an electronic effect.
"We have come to a point in time where it is obvious that marching around with signs will not have a further effect on this system of enslavement. "What will have an effect is thousands of us who desire true freedom bursting through the streets with our iron-clad fists of revolution ready to crush the oppressors. "
So, it's time, warriors of internet [inaudible] Black Bloc to the buildings that contain the corporations and governments
that oppress us and show the system what it truly means to resist. "A [inaudible] will soon appear on
http://www.resistrnc.org/
prior to the start of the RNC as a starting point."
Cops in the Tampa area need to gear up with rubber bullets and tear gas, shoot on sight "Black Bloc" should be the order of the day. 5,000 cops will be brought in from surrounding areas and from out of state, helicopters with the latest in high speed down load video equipment, three armored SWAT vehicles, new cameras hidden all over the city and plenty of tear gas and rubber bullets, lots of rubber bullets (aim for the face of black bloc terrorists and knock out their teeth).
Bill Warner Private Investigator Sarasota Fl at
www.wbipi.com