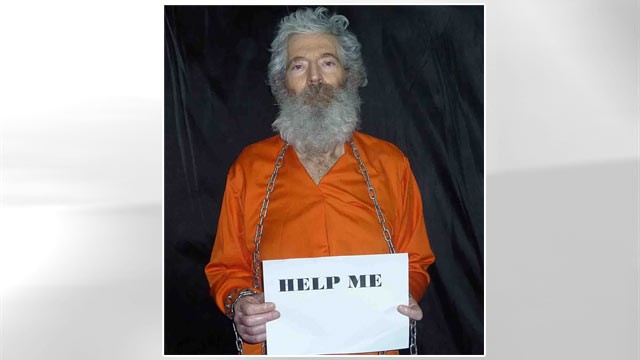 ABC NEWS FAIRY TALE......The family of a former FBI agent who was kidnapped in Iran has released a new series of images of the 64-year-old man, showing him draped in chains and dressed in what appears to be a mock prison uniform. In each he holds a sign, one of which reads "Help me." Robert Levinson was kidnapped while on a business trip to Iran's Kish Island in 2007. In the new images provided to ABC News and other outlets, the first made public since a 2010 "proof of life" video was released in December 2011, Levinson stares blankly into the camera for the five photos, his face framed by wild white hair and an unkempt white beard. One of the signs makes reference to the U.S. government's detention camp in Guantanamo Bay, Cuba, where more than 160 suspected Taliban fighters and al Qaeda members are held. "I Am Here in Guantanamo Do You Know Where It Is?" reads the sign. "This is the result of 30 years serving for USA," says another. "Why you can not help me." READ MORE.
REAL STORY.......UPDATED Robert Levinson Former FBI Agent and Florida Private Eye Held in Iran He Was Working For British American Tobacco (BAT) BATUKE Cigarettes Seeking a Smuggling Route into Iran. According to the Financial Times, Levinson spent his long career in and out of the FBI focused on counter-narcotics and Russian organized crime. The newspaper said that the "British American Tobacco (BAT) told the FT it had employed Mr. Robert Levinson through Bishop International security consultancy to take on cigarette smuggling counterfeiting work."
The attractiveness of the Islamic Republic of Iran is underlined by a recent article in a tobacco trade journal: 'Iran is the largest consumer in the Middle East and this includes significant cigarette consumption. An estimated 45 billion units are sold each year and consumption is growing at an annual rate of 1 percent.' If Mr. Levinson was looking to find routes for British American Tobacco (BAT) to

transport cigarettes into Iran where the Iranian Government

has a monopoly on cigarette manufacturing he was playing with fire.
Mr. Levinson who served 27 years as an FBI agent and also worked for the Drug Enforcement Administration, disappeared from Kish Island, a free trade zone and smuggling center where Iran's typically strict visa requirements are not enforced, while investigating a cigarette smuggling ring for a private client, Levinson said he was representing British American Tobacco (BAT) and wanted help in cracking a cigarette smuggling ring into Iran. He has seven children and two grandchildren.
BATUKE cigarettes, British American Tobacco (BAT) has relied on illegal channels to supply markets across Africa since the 1980s. Available documents suggest smuggling has been an important component of BAT's market entry strategy in order to gain leverage in negotiating with governments for tax concessions, compete with other transnational tobacco companies, circumvent local import restrictions and unstable political and economic conditions and gain a market presence. British American Tobacco (BAT)worked through distributors and local agents to exploit weak government capacity to gain substantial market share in major countries.
Bill Warner Private Investigator Sarasota Fl at
www.wbipi.com