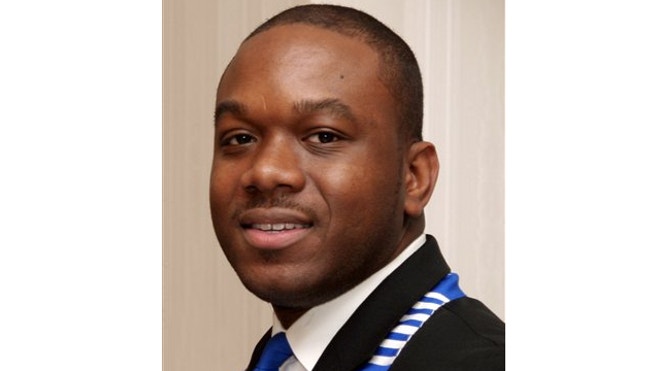 According to ABC24.com police investigators believe Marco McMillian was strangled (with a rope-was he hanged?) and his body dumped in a ditch at the Mississippi river levee. The death of a Mississippi mayoral candidate who was found on a river levee Wednesday is being investigated as a homicide, authorities said. Coahoma County Coroner Scotty Meredith said the body of 34-year-old Marco McMillian was found on the Mississippi River levee Wednesday at about 10 a.m.
MSNewsNow.com reports that the sheriff's office said it had a person of interest in custody. The individual had not been charged as of late Wednesday night, according to a post on the department's Facebook page.The department also said authorities had been looking for McMillian since a man crashed the candidate's car into another vehicle on Tuesday. McMillian was not in the car. The sheriff's office said deputies responded to the two-car crash on U.S. Highway 49 South near the Coahoma and Tallahatchie county lines on Tuesday about 8 a.m.
Clement Dawes, former KKK Grand Wizard and Clarksdale, MS
, yam farmer. "Saying that blacks and Jews are half-human, I can't believe it. They may as well be claiming that slavery and lynching are half-wrong."
Mississippi was a hotbed of Civil Rights activism in the 1960′s. Sam Bowers was the imperial wizard of the White Knights of the Ku Klux Klan of Mississippi, he was linked to
Florence Mississippi in 1984
. The White Knights of the Ku Klux Klanwas considered the most militant as well as the most violent Ku Klux Klan in history. "By June of 1964, membership in the White Knights of the Klu Klux Klan of Mississippi was estimated at 10,000″. In 1964, the White Knights of the Ku Klux Klan murdered three civil rights workers: Andrew Goodman, James Chaney, and Michael Schwerner. The victims were members of the Congress Of Racial Equality.
The FBI is currently seeking information on more than 100 unsolved civil rights murders that occurred prior to 1969. These cases are being reexamined as a result of the Civil Rights-era Cold Case Initiative, a joint effort with federal, state and local law enforcement partners, as well as community leaders and civic organizations. A partial listing of these cold cases is presented below.
Victim(s) Name

Date of Death

Location of Death

Louis Allen
January 31, 1964
Liberty, MS
Benjamin Brown
May 10, 1967
Jackson, MS
Charles Brown
June 20, 1957
Yazoo City, MS
Jessie Brown
January 13, 1965
Winona, MS
Silas Caston
March 1, 1964
Jackson, MS
Vincent Dahmon
May-July 1966
Natchez, MS
Roman Ducksworth
April 1961 or 1962
Taylorsville, MS
Jimmie Griffen (Griffin)
September 24, 1965
near Sturgis, MS
Paul Guihard
September 30, 1962
Oxford, MS
Wharlest Jackson
February 27, 1967
Natchez, MS
George Lee
May 7, 1955
Belzoni, MS
Sylvester Maxwell
Body discovered


January 17, 1963
Canton, MS
Robert McNair
November 6, 1964
Pelahatchie, MS
Clinton Melton
December 3, 1955
Tallahatchie, MS
Booker Mixon
October 12, 1959

Clarksdale, MS

Mack Parker
April 25, 1959
Poplarville, MS
William Prather
November 1, 1959
Corinth, MS
Johnny Queen
August 8, 1965
Fayette, MS
Donald Raspberry
February 1965
Okolona, MS
Jessie Shelby
January 29, 1956
Yazoo City, MS
Ed Smith
April 27, 1958
State Line, MS
Lamar Smith
August 13, 1955

Brookhaven, MS

Eddie Stewart
July 9, 1966
Jackson or


Crystal Springs, MS
Saleam Triggs
January 23, 1965
Hattiesburg, MS
Clifton Walker
February 28, 1964
Woodville or Natchez, MS
Murder Suspected of Black Mississippi Mayoral Candidate Marco McMillian in Clarksdale, Mississippi was Central To 25 Unsolved KKK Murders In Civil Rights Era Including Clarsdale. Sam Bowers the imperial wizard of the White Knights of the Ku Klux Klan of Mississippi perceived the original Ku Klux Klan as being too passive. On February 15, 1964, at a meeting in Brookhaven, Mississippi, he convinced about 200 members of the original Knights to defect and join a highly secret Klan, to be called the Mississippi White Knights of the Ku Klux Klan, that would not hesitate to use violence to achieve its goals. Bowers adopted a strict code of secrecy with the purpose of preserving White supremacy in the South.
Mississippi

| CITY | CHAPTER |
| --- | --- |
| Ripley | Mississippi White Knights of the Ku Klux Klan |
| Tupelo | Mississippi White Knights of the Ku Klux Klan |
| Shannon | Mississippi White Knights of the Ku Klux Klan |
| Mize | Mississippi White Knights of the Ku Klux Klan |
| Jackson | Mississippi White Knights of the Ku Klux Klan |
| Pearl | Mississippi White Knights of the Ku Klux Klan |
| Meridian | Mississippi White Knights of the Ku Klux Klan |
| Philadelphia | Mississippi White Knights of the Ku Klux Klan |
| Brookhaven | Mississippi White Knights of the Ku Klux Klan |
| Petal | Mississippi White Knights of the Ku Klux Klan |
| | Original Knight Riders Knights of the Ku Klux Klan (W. Va.) |
| Florence | Original Knights of America Knights of the Ku Klux Klan |
| Raleigh | Original Knights of America Knights of the Ku Klux Klan |
| Steens | Original Knights of America Knights of the Ku Klux Klan |
| Philadelphia | Original Knights of America Knights of the Ku Klux Klan |
Bill Warner Private Investigator Sarasota Fl at
www.wbipi.com