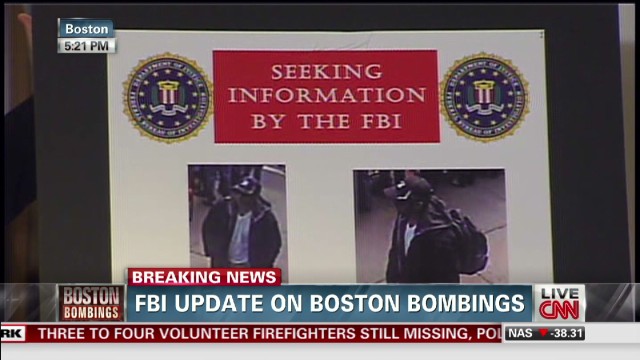 FBI Circulates Photo of Two Men Carrying Large Dark Backpacks Near Finish Line As Persons of Interest In Boston Bombing, Al-Qaeda Link?
NY Post...."Investigators probing the deadly Boston Marathon bombings are circulating photos of two men spotted chatting near the packed finish line, The Post has learned. In the photos being distributed by law-enforcement officials among themselves, one of the men is carrying a blue duffel bag.
The other is wearing a black backpack in the first photo, taken at 10:53 a.m., but it is not visible in the second, taken at 12:30 p.m."
"The attached photos are being circulated in an attempt to identify the individuals highlighted therein," said an e-mail obtained by The Post. "Feel free to pass this around to any of your fellow agents elsewhere."

Was Boston Marathon Terror Attack Payback for Boston Al-Qaeda Tarek Mehanna Sent To Prison on April 12, 2012? October 2009, Feds: Sudbury Man Tariq Mehanna Planned Terrorist Attacks At Shopping Malls in Boston Area, He Links to Blogger Samir Khan In Charlotte NC. 10/21/09, BOSTON HERLAD….A 27-year-old man from Sudbury has been arrested on charges he planned terrorism attacks inside and outside the United States, including a plot to use automatic weapons to open fire at shoppers and emergency responders in Boston shopping mall attacks. He was sent to prison on April 12, 2012, Judge George A. O'Toole, Jr. sentenced Tarek Mehanna, 29, to 210 months, to be followed by seven years of supervised release. Was Boston Marathon Terror Attack Payback for Boston Al-Qaeda Tarek Mehanna Sent To Prison on April 12 2012?
Two separate explosions at the finish line of the Boston Marathon on Monday, witnesses told NBC News. The Associated Press reported that bloody spectators were being carried to a medical tent that had been set up to care for tired runners. Will Ritter, the spokesman for a Massachusetts Senate candidate, told NBC News that he heard what sounded like two explosions and saw smoke rising near the Boston Public Library. He said that he saw three fire engines and police running to the site.
Al-Qaeda leader Mohammad al-Chalabi Gloats over Boston Marathon Terror Attack; The head of an extremist Jordanian Muslim Salafi group said on Tuesday that he was 'happy to see the horror in America' after the explosions in Boston. 'American blood isn't more precious than Muslim blood,' said Mohammad al-Chalabi, who was convicted in an al Qaeda-linked plot to attack U.S. and other Western diplomatic missions in Jordan in 2003. 'Let the Americans feel the pain we endured by their armies occupying Iraq and Afghanistan and killing our people there,' he said.
Bill Warner Private Investigator Sarasota Fl at
www.wbipi.com