Don' t tell me that you can't shut down Al-Qaeda websites that promote terror training on the web, like the 'Inspire Magazine', I've been doing it for years!
NBC NEWS....
Inspire,
It is as slickly designed as any magazine
you would find at the supermarket checkout line, or in the seat pocket in front of you on an airplane. It even has snappy cover headlines — teasing articles like "Make a Bomb in the Kitchen of Your Mom." And now Inspire, the recruitment magazine of al Qaeda in the Arabian Peninsula, probably has its next cover story: It allegedly helped inspire the two brothers accused of bombing the Boston Marathon.
Dzhokhar Tsarnaev, the hospitalized suspect in the marathon attack, has told federal investigators that the brothers got information on building bombs from Inspire,
law enforcement officials told NBC News
. The magazine, which terrorism monitoring groups say was published for the first time in 2010, exists mostly as PDFs and obscure links passed around the Web. In the Internet era, shutting it down would be virtually impossible, terrorism experts say. (Bull Crap).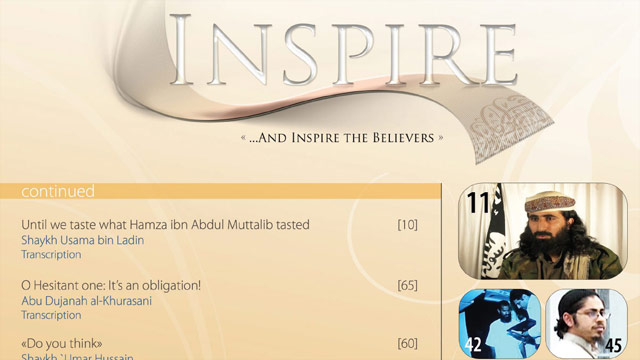 He was killed in September 2011, at age 25, by an
American drone strike in Yemen that also killed Anwar al-Awlaki, a prominent radical cleric
(Terrorist). Since Khan's death, terrorism analysts said, the magazine has taken on a less professional look.
Terrorist Samir Khan Speaks From the Grave With Al Qaeda Manual Offering Tips to Western Recruits. Samir Khan was living in Charlotte NC when WBTV 3 News and I exposed his links to Al-Qaeda and the work he was doing for them online, see surveillance video at top of this post. I filed numerous complaints with the FBI about Samir Khan and his activity with Al-Qaeda while he was in Charlotte NC but no action was taken by the FBI, see Feb. 16th 2009 Samir Khan Complaint below.
Terrorist Samir Khan posted the following death threat while he was in Charlotte NC…In Sha' Allah.
T
he lying enemy of Allah,
Bill Warner – may Allah destroy him
—
claimed
that he was the one who shut down our blog. Let this be a testimony that this disbeliever is a liar". "
May Allah send a hurricane over his house so that he can be wiped out, humiliated
. In addition, al-Thabaat forums are back up. Please visit the main page
. We have dedicated a video to the return of the blog
to strike fear in the heart of the Kuffaar Bill Warner".
SEE YOUTUBE VIDEO CLICK HERE
Bill Warner Private Investigator Sarasota Fl at
www.wbipi.com