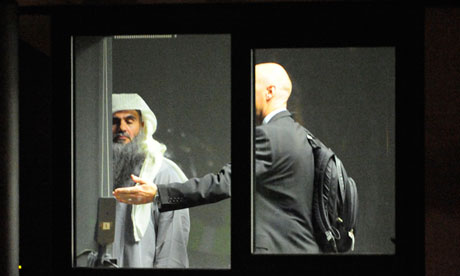 Terror group
Al-Muhajiroun
had secret meetings in Queens NY at the Islamic Center of Queens. "PI Bill Warner reminds us Masjid al-Fatima Queens NY shows up in 4/30/07 BBC News al-Muhajiroun expose of the terror connections in the UK and in Queens NY to the recent bomb convictions in the UK. See Richard Watson BBC News, link the Masjid Al-Fatima aka Islamic Center of Queens in Woodside NY and Mohammed Junaid Babar to the convictions of the UK Fertilizer bomb plot. There is an active al-Muhajiroun terror cell in Queens NY."
FOX NEWS Sunday July 8th, 2013:
A Jordanian military prosecutor says he has charged a radical Muslim preacher with conspiring to carry out Al Qaeda-linked attacks on Americans, Israelis and other Westerners in this key U.S. ally.
Abu Qatada, 53, arrived in Jordan earlier Sunday, see photo above, after being deported from Britain.
The military prosecutor says Abu Qatada will be detained for 15 days pending further questioning. He says the cleric will remain at Muwaqar I, a prison in Amman's southeastern industrial suburb of Sahab.
In 1991, after the first Gulf War against
Iraq
in
Kuwait
, he was expelled, as many other Palestinians, from Kuwait to JORDAN . In 1993 Abu-Qatada left Jordan and arrived to
UK
, with his wife and five children, through
UAE
using a forged passport. Despite the use of forged documents Abu-Qatada
was allowed to stay in UK in June 1994 after claiming asylum for himself and his family.
Already In 1992 Abu-Qatada formed, with friends from Afghanistan,

Abu Muhammad al-Maqdisi

,

Abu Anas al-Shami

and

Abu Musab al Zarqawi

, a spiritual group in Zarqa s' Mosque in Jordan,
Biat al-Imam
, that turned very soon to an Islamic terror cell. The cell planned attacks against the JORDANIAN regime scheduled to the end of the millennium. The

JORDANIAN MILLENNIUM

attack was foiled and Abu-Qatada was sentenced, in absentia, to 15 years in jail.
After

Abu Zubaydah

was captured in Faisalabad ,

Southeast
Pakistan
on 03/28/2002 he confirmed in his interrogation in

Guantanamo

that

Abu Qatada was his representative in Europe and a senior Al Qaeda operative.
Abu Qatada was arrested in 09/2002 under the new terror act from 12/2001 (see -
ABC-Group
). He was released on bail under strict restrictions on 03/11/2005.
After UK has signed a memorandum with JORDAN, which ministers say will ensure that any deported terrorism suspects will not face torture or ill-treatment on return, Abu Qatada was rearrested on 08/2005 pending extradition to Jordan.
Abu Qatada has been found guilty in JORDAN of terrorism offences in his absence and today (05/2007) he is still fighting against his extradition in court.
Abu Qatada
is wanted on terrorism charges in

Algeria

,

USA

,

Belgium

,

Spain

,

France

,

Germany

and

Italy

because of his connections and spiritual guidance to groups like
Moroccan Islamic Combat Group (

CICM

)
,
Salafist Group for Preaching and Combat- (

GSPC

) in Algeria or the Armed Islamic Group (

GIA

).
Bill Warner Private Investigator Sarasota Fl at
www.wbipi.com