UPDATE:
September 1st, 2013 KENTON COUNTY, Ky. (WKYT) -
Investigators think a body found along I-75 belongs to missing Mindy Ingram from Cincinnati Ohio, who disappeared about four weeks ago. Mindy Ingram appears to have graduated from high school in 2003 so she should be about 28 or 29 years old. Her family fears investigators are probably right. Ingram's family has been asked to submit dental records to try to positively identify the body.
Was she kidnapped in Cincinnati Ohio, murdered and then her body dumped
along

southbound I-75 between the
Walton and Crittenden
exits in southern Kenton County KY, see
map click here
. It is about 23 miles south from Cincinnati Ohio to where Mindy Ingram's body was found. The body of another young woman from the same general area has also been found, Katelyn Markham went missing from Fairfield Ohio, which is a 24 miles north of Cincinnati Ohio. Paige Johnson went missing from Covington KY which is just 2 miles south of Cincinnati Ohio, see a pattern?
UPDATED…
Cops Seek Killer After Remains Of Missing Katelyn Markham Found Near Creek In Cedar Grove Indiana, Katelyn Last Seen In Fairfield Ohio.
Katelyn Markham's skull was found in a brown grocery bag other bone fragments were scattered around the creek. On Tuesday November 22nd 2011 I, private detective Bill Warner, was on CNN Headline News
"ISSUES with Jane Velez-Mitchell" out of New York City
at 7:00 pm discussing missing, petite, blonde haired women, Karen Swift, Holly Bobo, Lauren Spierer, Paige Johnson and Katelyn Markham who had vanished without a trace, at that time I spoke of the possibility of a serial killer targeting young blonde haired females.
KENTON COUNTY

— Authorities are trying to identify a body found along Interstate 75 in southern Kenton County Tuesday morning.
Mowing crews spotted the body in the wood line along southbound I-75 between the Walton and Crittenden exits in southern Kenton County, see map click here. The location of where the body was found alongside I-75 between the Walton and Crittenden exits is about 16 miles south of Florence KY where Paige Johnson went missing in October 2010. The site where the body was found by I-75 is a major truck route between Cincinnati OH and Lexington KY.
The crews spotted the body about 8:15 a.m. and called police, said Kenton County Police Chief Brian Capps. Responding officers found the partially decomposed body and called for the coroner.
"It's very probable that it is a female, but we will learn more through the autopsy."
Pieces of clothing are leading to the assumption that the body is female, but authorities want to be sure, he said. Police are not yet sure how long the person has been dead or how long the body has been along the interstate, he said.
Authorities are treating the discovery a crime scene as a precaution, Capps said. After crime scene technicians process the scene, the body will be taken to the medical examiner's office for an autopsy.
"Right now we have to identify the person, once we identify the person we work backward," Capps said. "We're not ruling anything out at this point.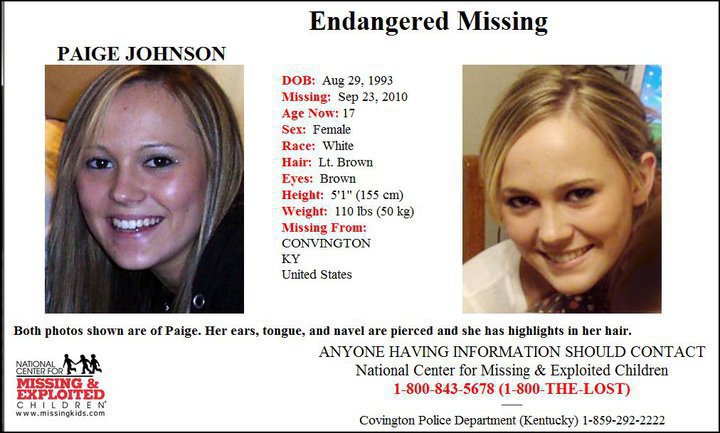 FLORENCE, Ky. Jan 12 , 2013 - Hope was momentarily renewed in the search for information regarding the disappearance of Paige Johnson Saturday when a tip led police to an old cistern in Latonia, Ky. However, police called off their search around 4:30 p.m. after finding little more than a collection of animal bones, pieces of broken pottery and disappointment during their day-long search. Johnson has been missing since Sept. 23, 2010. She was 17 years old at the time of her disappearance.
While the family and friends of Paige Johnson held out hope that the mystery surrounding her disappearance would finally be solved, Kenton County Commonwealth Attorney Rob Sanders wasn't quite so optimistic. "This is a tip out of left field compared to all the information Covington police have gathered so far so I don't hold out a lot of hope," Sanders said during the early portion of the search.