KKK in Marianna Jackson County Fl and at the Dozier School for Boys.

KKK Members Made Up of Relatives of Confederate Army Vets in Marianna Fl and at Dozier School for Boys.

From 1869-71, four years after the Civil War ended in 1865, Jackson County was the center of a low-level

guerrilla war

known as the

Jackson County War. Members of the Ku Klux Klan

consisting of

Confederate Army

veterans assassinated over 150 white Republican Party

officials and murdered prominent

African-Americans

as part of a successful campaign to retain white

Democratic power.
The Florida Industrial School for Boys also known as the Dozier School for Boys Marianna Fl opened for business on January 1st, 1990, it appears that many of the guards and school officials were pulled from the membership of the KKK as was Florida governor Fuller Warren. In January 1949, Klansmen held a motorcade through Tallahassee Fl for newly- inaugurated governor Fuller Warren, a former Klansman from Blountstown Fl in the Panhandle.
From early 1869 through the end of 1871, citizens of Jackson County, Florida, slaughtered their neighbors by the score.
The nearly three year frenzy of bloodshed
became known as the Jackson County War
. The killings, close to one hundred and by some estimates twice that number, brought Jackson County the notoriety of being
the most violent county in Florida during the Reconstruction era. The Jackson County War emerges as an emblem of all that could and did go wrong in the uneasy years after Appomattox and

that left a residue of hatred and fear that endured for generations.
1927 Photos above ...Return of a Confederate army unit battle-flag, at a United Confederate Veterans' reunion in Marianna, Florida.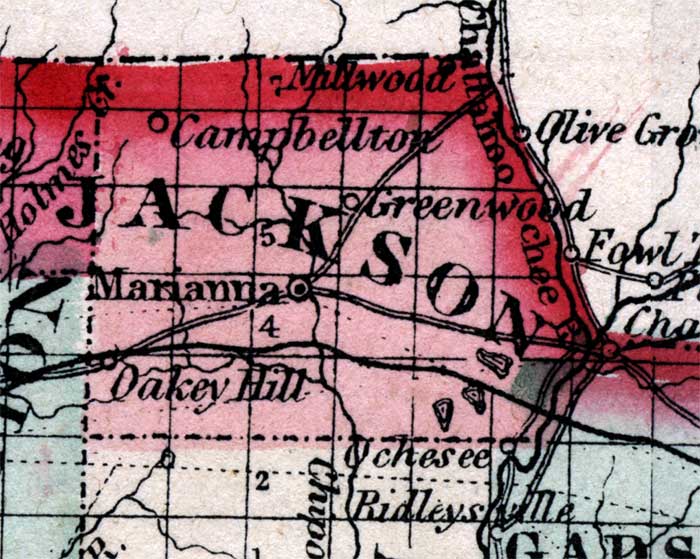 Many businesses and hundreds of individuals were forced into bankruptcy in Marianna Fl. Many school and churches closed. Due to frustrations over changes due to Civil War came what has been called a "second rebellion" against authority, referred to by some as the "Second Battle of Marianna" or the "
Jackson County War." This period lasted from 1869 until 1871 (Civil War had ended in 1865)
and resulted in the death of over 150 men, women, and children, white and black, exceeding the casualties of the 1864 battle. Some were native whites
but the majority were blacks
and white Republicans.
By 1920, millions of board feet of lumber and thousands of barrels of turpentine and rosin had been shipped from Jackson County.
This was during the "convict leasing program" that was in effect
. Not only men but boys as young as 13-14 were sent to these camps. The level of

brutality was severe. The boys were expected to do a man's work and if they didn't they were whipped where they fell.
In 2011, as part of a renewed focus on 100 unsolved crimes of the Civil Rights era, the U.S. Department of Justice opened a new investigation into the 1934 Florida lynching of an African American farm worker named Claude Neal. The lynching took place near the city of Marianna in the Florida Panhandle and was one of the pivotal events of the Great Depression. FBI agents have been in the area looking into the crime, reverberations of which continue to be felt despite the passage of 79 years since the violent events of October 1934. Claude Neal was a 23 year-old farmer who lived in Greenwood, Florida, about 9 miles away from the town of Marianna with his wife, mother,
and aunt. In October of 1934, 20 year-old Lola Cannady, a white woman and neighbor of Neal
, was raped and murdered with a hammer used to mend nearby fences.
Within 2 hours, Neal was pegged as the perpetrator and arrested by the local Sheriff. For about a week, the Sheriff moved Neal from jail to jail throughout Florida, eventually moving him 150 miles across state lines into Alabama. A particularly focused lynch mob found out his location, broke Neal out of the jail in Brewton, Alabama, and brought him back to Marianna. Once
back, a group of six men (called 'the committee of six'--KKK) tortured Neal for several hours
and eventually shot him. His body was then further mutilated by various members of a riot mob that had formed to watch the lynching. His corpse was hung on a tree next to the courthouse in Marianna. Several hours after he was lynched, many of the townspeople of Marianna began rioting downtown, allegedly causing substantial property and personal damage to the black residents of town, no one has ever been charged in the murder of Claude Neal.
Post WWII the Ku Klux Klan saw a revival initiated by Dr. Samuel Green, an Atlanta doctor, who formed the Association of Georgia Klan. The revival spread to Florida and six other states. On election night 1948 Florida Klan paraded from Lake County to Wildwood to show support for Dixiecrat Presidential Candidate Strom Thurmond. In 1949 Klansmen held a motorcade through Tallahassee. Newly inaugurated Governor Fuller Warren, was a former Klansman. A bridge was later named in his honor in Jacksonville. Also in 1949 klan power grew quickly particularly in Orange county, ranks included prominent lawmen, businessmen, and elected officials. Apopka and Winter Garden had a high number of membership including the Cheif of Police, Constable, Nightguard, and Justice of the Peace. Seventy-five percent of Apopka's male population was Klan.
CBS NEWS: In the 1940's V. G. Lowery, rector Saint Luke's Episcopal Marianna Fl officiated at burial of the dead at Dozier School for Boys Marianna Fl; In the summer of 1940, Ovell Smith's 14-year old brother, Owen Smith, was sent to the Florida Industrial School for Boys accused of wrecking a stolen car. Shortly after arriving at the school, Owen tried to escape but was captured. In a letter home to his family,
Owen said upon his return that he "got what was coming to him." Despite the threat of further punishment,
Owen escaped from the school again in December 1940 with another boy. Only this time, Owen was never seen alive again.
On January 1, 1941 the school's superintendent, Millard Davidson,
sent a letter to Owen Smith's parents.
It read, "...so far, we have not been able to get any information concerning his whereabouts." Owen's mother replied to the school announcing intentions to travel to Marianna in search of her son. As the family prepared to travel north, they received further communique from the school. A telephone call alerting them that Owen Smith's body had been found underneath a home in a residential area, miles from school property.
1950's Group portrait of administrators at the Florida Industrial School for Boys in Marianna, Florida. Note superintendent Arthur Dozier in the center with hand in pocket.
School officials said Owen's body was so badly decomposed they couldn't determine cause of death, but suspected he had perished from the cold. Owen's family didn't believe them. "The boy who ran away with Owen said the last time he saw Owen, guards were shooting at him as he ran across a field," Ovell Krell Smith told CBS News.
The family asked that Owen Smith's body be taken to a local mortuary where they would collect his remains. But when 11-year old Ovell and her parents arrived in Marianna, school employees pointed to a plot of recently disturbed soil as the site of Owen's final resting place. The rector of a nearby Episcopal Church later
wrote to the Smith family,
consoling them with the knowledge that he had performed the burial service for their son.
1960's Group portrait of boys at School for Boys in Marianna, Fl.
In his letter
V.G. Lowery wrote, "It was in the Burial Plot of the School,
that is kept nicely cleaned and cared for, and will be looked after in the years to come." That letter is the only proof that Owen's body was buried in Marianna. In fact, it's the only proof that he died at all. According to Ovell, she's been unable to get a death certificate for Owen, not even the Bureau of Vital Statistics has a record of him dying.
KKK....October 2, 2008,
Marianna teacher 'told students that 'CHANGE' stood for' NIGGER…According to parents and students in Greg Howard's
seventh-grade social studies class, Howard on Friday, Sept. 26 asked the class a question
regarding Obama's call for change,
and proceeded to write out what the letters C-H-A-N-G-E stood for. "She told me that he wrote on the board '
Can You Help A Nigger Get Elected', and then laughed about it," said Shelia Christian, a mother of one of Howard's students
. Marianna Teacher Greg Howard was suspended without pay for 10 days, was relieved of his football coaching duties, and will be transferred to the Jackson County Adult Education program. Howard was given a written reprimand regarding his actions, and those actions will be reported to the
Florida Department of Education Office of Professional Practices
, according to the
school board
.
Time for a road trip to KKK country in Marianna Fl.