9/11/2001 IT WAS JUMP OR BURN THAT DAY TO COMMEMORATE THE GOOFS AT TUMBLEDOWN TRAILS GOLF COURSE OFFER 9 HOLES FOR $9.11 ON 9/11, WHAT JACKALS.
Public tees off on Wisconsin golf course after tasteless '$9.11' discount offer. A Wisconsin golf course is deep in the rough following a tone-deaf promotion that offered nine holes for $9.11 on the 12th anniversary of the Sept. 11 terror attacks. Officials at Tumbledown Trails Golf Course in Verona apologized for the tasteless pitch late Monday, in which it offered would-be golfers "9 holes with cart for only $9.11 per person or 18 holes with cart for only $19.11!"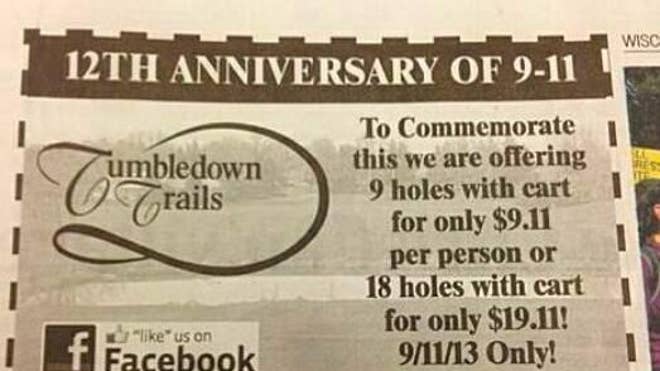 The ad appeared earlier Monday in the Wisconsin State Journal and sparked widespread outrage online, prompting officials to consider closing down for the day."Please stay tuned to see if we will be open on Weds 9/11," a posting on the course's Facebook page read. "We are now worried about what people will do/say to our staff & do not want anything to happen or get out of control."
"9/11 is a painful, frightening memory for those of us who were living and growing up in the Northeast," another commenter wrote. "For those who were there and who lost parents, relatives and friends, it is a nightmare they must face at this time every year for the rest of their lives. To exploit these horrors for profit is sickening."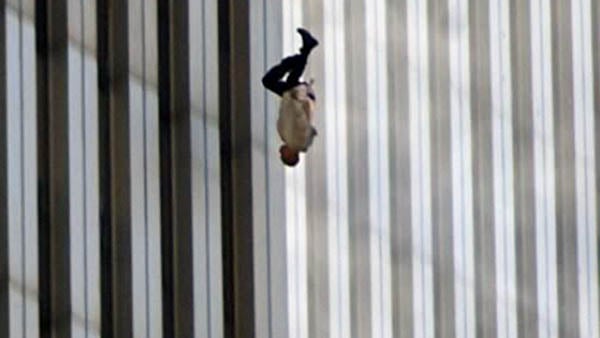 Sept. 11th, 2001….For the 1,400 people in the top 19 floors of the north tower WTC, there was no escape after the first jet
smashed
into the 94th through 98th floors at 8:46 a.m. But the people on the top floors of the south tower still had the chance to run, and for them, delay meant death.
They had just 16½ minutes before a second jet,
United Airlines Flight 175, would tear through the 78th through 84th floors of their building. In that brief window of time, 2,000 people from those floors and up faced a critical choice: stay or go. They didn't know what was coming, but if they moved quickly enough, they survived.
Fourteen hundred people fled from the top floors of the south tower to the safe zone
below the 78th floor. Six hundred did not.
Bill Warner Private Investigator Sarasota Fl at
www.wbipi.com