The kidnapping of extremely attractive blond haired Jennifer Kesse, 24, in Orlando FL is eerily similar to the kidnapping of extremely attractive blond haired Holly Bobo, 21, in Darden TN. Both Holly and Jennifer had left their home or apartment early in the morning (around 7:30 am) and were heading to their cars when they were grabbed by a man waiting for them outside. Holly Bobo was kidnapped on the morning of Wednesday April 13th, 2011, Jennifer Keese was kidnapped on the morning of Tuesday January 24th, 2006, see http://jenniferkesse.com/.

Both Holly and Jennifer appeared to be the target as police and the FBI do not think that robbery was the motive, both women were taken by what appears to be a serial abductor. Both Holly Bobo and Jennifer Kesse are very similar in appearance, very pretty young white females with long blond hair. There has been no trace or clues or suspects or even a person of interest in the kidnapping of Holly Bobo and Jennifer Kesse, they are just 'Gone' just like a dozen or more extremely attractive blond haired young females, see

http://pibillwarner.wordpress.com/2013/05/10/missing-petite-blonde-females-like-holly-bobo-and-kelli-bordeaux-may-be-victims-of-international-human-sex-trafficking-ring-says-fbi/
GONE: Jennifer Kesse 24 Abducted From Orlando Fl She Has Long Blond Hair and Green Eyes She Was Targeted at her apartment complex, her car was found about 1 mile down the road from her complex in a gated lot. Police released a video surveillance tape of the car being parked in the lot by someone other than Kesse.The grainy video partially shows a person walking away from the car, past a parking lot gate. Police are uncertain if this person of interest is a man or a woman, because the image is partially obscured by the gate. The person is described as 5 feet 4 inches, with a short haircut, wearing light-colored clothes and dark shoes. The video is time and date-stamped at noon on the day Kesse disappeared. Forensic tests on the vehicle came back inconclusive, Sgt. Jones said. No blood or other trace evidence was found to show that Kesse had been injured in the vehicle.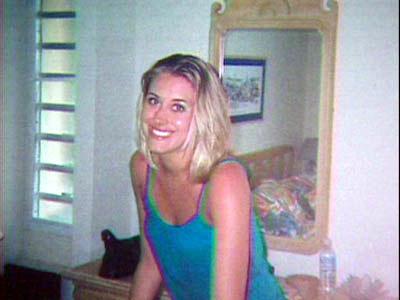 Her father Drew Kesse said that every Tuesday, landscapers worked at the condo complex near his daughter's parking space. The landscapers said they didn't see Kesse leaving her apartment and getting into her car, which she did every weekday morning between 7:30 and 7:45 a.m. "The only theory we could come up with is that she walked out her front door and was kidnapped somewhere between her front door and the parking lot where her car was. We think since the landscapers didn't see her, she must not have even made it out of the hallways or stairwells of the condo complex," Drew Kesse said.
See Jennifer Kesse Missing Poster in Spanish Below;