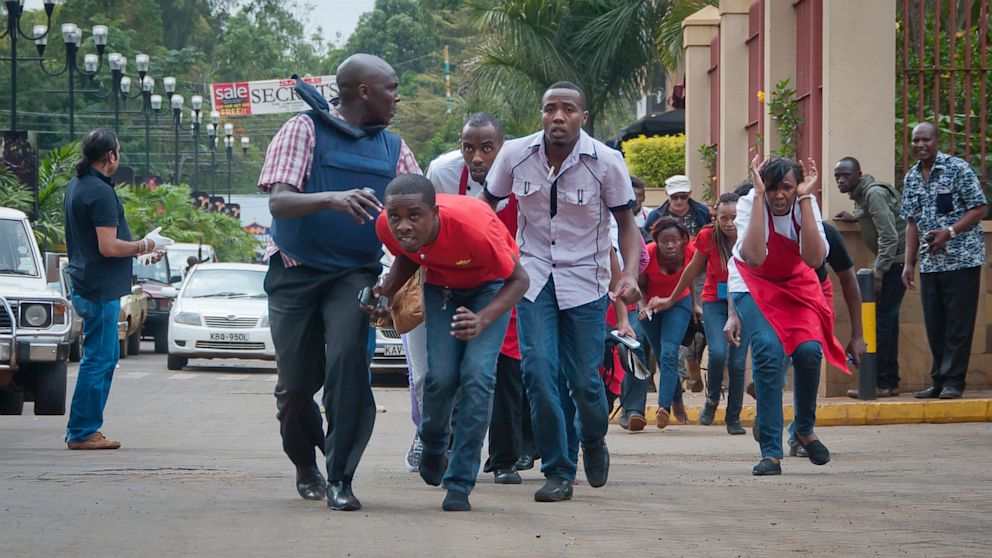 ABC NEWS by Brian Ross....Al-Shabaab Terror Group That Claimed Kenya Attack Has Recruited Americans Before.

The same group that claimed responsibility for an
attack on a Kenyan mall
this weekend that has claimed at least 68 lives has previously recruited dozens of Americans to join their cause.

U.S. officials estimate that as many as 50 Americans have traveled to training camps in Somalia, the home of the al Qaeda-linked terror group al-Shabaab, over the last six years. Just last month, al-Shabaab released a video showing three young men claiming to be from Minneapolis who the terror group said later died as martyrs. Another American, Omar Hammami of Daphne, Ala., rose to a leadership position in al-Shabaab until he was reportedly killed by rivals in the group earlier this month. Hammami, widely known as the rapping jihadist on www.kataaib.net, recorded several videos of himself rhyming about what he saw as his holy war against the West and the glory of martyrdom. Hammami and other al-Shabaab leaders have vowed to hit U.S. targets and officials worry the American recruits still there could return home with that mission in mind.
Photo:
Abu Mansour al-Amriki, a member of the Al Qaeda-linked Somali terrorist group al-Shabaab rapped on www.kataaib.net, "It was blatantly recruiting suicide bombers," PI Bill Warner said.
PRESS-REGISTER MOBILE AL....A Website used by the Somali jihadist group Al-Shabaab that has been tied to
a suspected terrorist from Daphne
was hosted by an Internet company based in the United States, according to a private investigator.
Bill Warner, an investigator from Sarasota, Fla., who tried to shut down a number of Web sites linked to extremist groups, said he first targeted an al-Shabaab Web site in May 2008 after the U.S. government labeled it a terrorist organization.
Dotster Inc. of Vancouver, Wash., took the Website down in January 2009, Bill Warner said, after an order from the federal government, but the damage had been done.

The

Al-

Shabaab

(Al-

Qaeda

linked) terrorist recruiting website

www.kataaib.net

that has been

hosted

by the

Dotster

Web Co in Vancouver WA since April 13rd 2007 was finally shut down by a US Government order on Jan 23rd 2009 ! "Registrant:

Domain pending cancellation per government order

c/o 8100 NE Parkway Drive, Suite 300 Vancouver, WA 98662 US, phone 360-253-2210″
Bill Warner said he has run a detective agency for 18 years and has been trying to shut down terrorist Web sites -- on his own time without pay -- since 2003. When watching an April 2007 al-Shabaab Web posting, he said, he was particularly intrigued by one of the men on the Website, a fair-skinned man, who stood apart from the Somali fighters. That man went by the name Abu Mansour al-Amriki. Fox News reported that his true identity is Omar Hammami and that he faces a secret indictment in Mobile's federal court on a charge of providing material support to terrorists, Hammami was killed in Somalia earlier this year. The FBI knew about Omar Hammami and his website

www.kataaib.net

since early 2007.




Bill Warner said news reports of Hammami's past as a computer science student confirmed his suspicions that al-Amriki had provided technical assistance to al-Shabaab. "At that time, I suspected he was involved with setting up the Website," he said. "It appears Omar, with his background, is the perfect guy to set this up for them." Rick Schwein, the assistant special agent in charge of counter-terrorism efforts at the Mobile office of the FBI, said he could not comment on a specific case. In general, he said, the bureau works within the constraints of the law to take down Websites that lure recruits and coordinate terrorist activity. "It's something that is of great concern to us," he said.


Bill Warner said federal investigators often do not want to tip their hand by moving on a Website before they have mined it for intelligence. Foreign terrorist groups prefer to use American Web-hosting companies because the larger bandwidth they use allows higher-quality video postings. Newspapers in Phoenix and Tampa, Fla., reported that Web hosting companies in their cities took down jihadist Websites

after Bill Warner pointed them out

in early 2008. But officials at Dotster, which hosted the al-Shabaab site at

www.kataaib.net

, totally resisted Bill Warner's efforts, he said.




It took 21 months for the

Dotster

Web Hosting Co to do the right thing, maybe now the

Columbian

Newspaper in Vancouver will re-think the stance they took on protecting the Al-

Shabaab's

website
www.kataaib.net
"right" to free speech, even thought the Al-

Shabaab

was designated a Terrorist Organization in Feb 2008. The local Vancouver

Columbian

Newspaper ran an attack piece calling me an "Internet Censor" and telling me that it was none of my business;

"
In our view "The

Columbian

Newspaper": Internet censor (Bill Warner)
Wednesday, May 07, 2008″.

PHOTO: Victim from recent Al-Shabaab terror attack in Kenya.

Dotster representatives could not be reached for comment. The company told the newspaper in Vancouver that its passes along all complaints to law enforcement agencies but does not censor customers' content. "We are not in a position to judge and be a jury on what content may be legal or acceptable," Brian Unruh, the firms chief financial officer, told the newspaper. Bill Warner said the Al-Shabaab site clearly crossed the line. And while the message was in Somali, he said, a mirror site run by a man in the United Kingdom had an English-language version. "It was blatantly recruiting suicide bombers," Bill Warner said.


Bill Warner Private Investigator Sarasota Fl at
www.wbipi.com