A picture is worth a thousand words, see my composite photo above of twelve of the misssing or murdered petite blond females that I have profiled, all young, all with long blond hair, all thin and small framed and they all look-a-like and there is no person of interest, no suspects and cops claim no connection, how absurd.
CBS NEWS TV LEXINGTON, Ky. (WKYT) - A Florida private investigator, Bill Warner, says he believes more than a dozen missing persons cases from Kentucky and surrounding states may be connected. The faces of the young women on Bill Warner's blog are similar but behind each smile is a different family searching for answers. "It just escalated over the last two or three years," Bill Warner said. "It continued, the same profile, young female with long blond hair, same petite size, it just kept happening over and over and over again."
"I'm looking at 17 different girls who all look exactly alike, and every individual area, whether it's
state police or local police, they all say the same thing, it's not connected to the others
," Bill Warner said.
I first broke the story of Texas honor killer Yaser Said hiding in New York City back in May of 2012, see Texas 'honor killing' suspect Yaser Said could be hiding in plain sight as NYC cabbie, private investigator says, now 18 months later in December 2013 the FBI office in New York City has finally joined the hunt for Yaser Said and is posting billboards in Times Square NY and offering a $20,000 reward,
see story CLICK HERE
and see Fox News NY
video CLICK HERE
,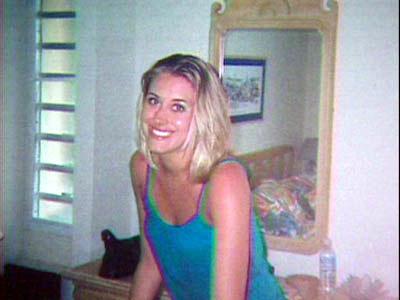 Petite blond Jennifer Keese was kidnapped on the morning of Tuesday January 24th, 2006, see
http://jenniferkesse.com/
.
Read following email I received from the father of Jennifer Keese:
Bill,
Good morning, Drew Kesse here, Father of Jennifer Kesse,
www.findjenniferkesse.com
. I have been following your work on the young blonde girls missing around our country and the mystery behind them all. You have mentioned my daughter Jennifer a couples of times. I just wanted to put it out there that even after 8 yrs taken and over 1400 leads, Jennifer remains Vanished and has stumped over 150 LE professionals that have taken on her case from Orlando police to MBI, FBI, Interpol, and ICE. I will continue to follow your work to see if at anytime something comes up that may be similar in Jennifer's case although there are many as already. I am familiar with about 90% of the women's cases in your investigation and it is mind blowing how none of these girls cases have been solved. Put Jennifer's picture up there and it looks like they are all related so obviously someone out there loves blonde blue eyed young beautiful women. National attention for these girls as a group is definitely needed and hopefully you will be able to crack one or more of these cases and bring some relief to the families like mine who suffer everyday without answers.
We live in Bradenton so not that far from you. Keep up the pressure and work someday something will click! Thank you for caring and acting!!!
Multiple petite blond females have gone missing with several murdered and cops have no clues, no suspects, the girls just vanished without a trace, where are the FBI profilers;
2). Jessica Heeringa..long blond hair and blue eyes, 5′ 1″ tall and 110 lbs, 25 years old, kidnapped Friday 4/26/2013 Norton Shores MI. UPDATE 12/11/2013 – The family of Jessica Heeringa isn't giving up on finding her despite it being more than seven months since the 26-year-old vanished from the Exxon gas station where she worked in Norton Shores. Her family held a fundraiser over the weekend to pay for a private investigator.
3). Crystal Morrison..long blondish hair, 5′ 2″ tall and 100 lbs, went missing Thur 12:45 pm 8/23/2012 Concord NC
4). Kortne Stouffer…..long blond hair, 5′ 8″ tall and 115 lbs, went missing Sun @ 3:45 am 7/29/2012 Palmyra PA. Karl E. Rominger, an attorney has signed on to help the family of a missing Kortne Stouffer,
Rominger said he will use the resources of private investigators
to help.
5). Brittany Wood… long hair with blond streaks in hair, 5′ 3″ tall and 105 lbs, went missing Wed 5/30/2012, Tillmans Corner AL
6).Heather Hodges….long blond hair, 5′ 1′ tall and 99 lbs, 22 years old, went missing Mon @ 10:30 pm 4/9/2012 Rocky Mount VA
7). Kelli Bordeaux …long blond hair, 5′ 0″ tall and 99 lbs, 23 years old, went missing Sat @ 1:30 am 4/14/2012 Fayetteville N.C. after a night out drinking, she did not have a car.
8). Karen Swift..long blond hair, 5′ 5″ tall and 129 lbs, kidnapped Sun @ 5:00 am 10/30/2011 Dyersburg TN (MURDERED)
9). Katelyn Markham…long blondish hair, 5′ 3″ tall and 128 lbs, 22 years old, kidnapped Sat @ 11:00 pm 8/13/2011 Fairfield OH (MURDERED).
10). Lauren Spierer .…long blond hair, 4′ 11″ tall and 95 lbs, 21 years old, went missing Friday @ 4:30 am 6/3/2011 Bloomington IN after a night out drinking, while walking down the street. The family have hired private investigator Richard Alfredo "Bo" Dietl, and police are still on the case.
11). Alivia Kail…long blond hair, 5′ 1″ tall and 109 lbs, 19 years old, went missing Friday 3/05/2011 Pittsburgh PA area
12). Holly Bobo …long blond hair, 5′ 3″ tall and 110 lbs, 21 years old, kidnapped Wed @ 7:40 am 4/13/2011 Darden TN (KIDNAPPED). Holly Bobo family had hired private investigator Sheila Wysocki.
13). Paige Johnson ….long blond hair, 5′ 1″ tall and 110 lbs, 17 years old, went missing Thurs @ 1:00 am 9/23/2010 Florence KY. Jacob T. Bumpass, told police he dropped off the teen at about 1 a.m. at 15th Street and Scott Boulevard.
14). Morgan Harrington..long blond hair 5′ 6″ tall and 120 lbs, 20 years old, kidnapped Sat 9:30 pm 10/17/2009 Charlottesville VA (MURDERED). At around 9:30 p.m., she was seen walking on the Copeley Road bridge near Ivy Road. Based on independent witness accounts Harrington was hitchhiking while on the Copeley Road bridge.
15). Brittanee Drexel….long blond hair, 5′ 0″ tall and 103 lbs, 17 years old, went missing Sat @ 9:15 pm 4/25/2009, Myrtle Beach SC. Brittanee Drexel family hires private investigator Mark Benson. Private eyes at Benson Agency Investigations to aid in search for missing Brittanee Drexel, a New York teen.
16). Crystal Hall…missing sine Tuesday 3/03/2009, she is 25 years old, long red hair brown eyes, she is 5'3″ tall and 114 lbs, from Pikeville KY.
17). Jennifer Kesse, 24, slender, long blond hair kidnapped Orlando Fl on the morning of Tuesday 1/24/2006, see
http://jenniferkesse.com/
.
18). Rape Victim…Saturday, evening, 9/24/2005 Fairfax VA, links to Morgan Harrington unsolved murder case.
19). Misty Gwinner..she was 18 years old,blond hair, 5′ 4 " tall and 120 lbs, from Florence KY, found dead Tues @ 9:45 pm 4/05/2005, (MURDERED). Lexington Police responded to a call about a body lying in the road on Cleveland Road. Misty Gwinner, a native of Florence, KY had no known connections to Lexington KY.
Bill Warner Private Investigator Sarasota Fl at
www.wbipi.com