LEXINGTON, Ky. (WKYT) - A Florida private investigator says he believes more than a dozen missing persons cases from Kentucky and surrounding states may be connected.
The faces of the young women on Bill Warner's blog are similar but behind each smile is a different family searching for answers.
"It just escalated over the last two or three years," Warner said. "It continued, the same profile, young female with long blond hair, same petite size, it just kept happening over and over and over again." See WKYT CBS TV News Video at

http://www.wkyt.com/home/headlines/Private-investigator-believes-Kentucky-missing-person-cases-may-be-related-239509891.html?ref=891
Warner says his interest began with a case in Tennessee and spread from there. Now he spotlights at least 17 women who have gone missing or were murdered, and he believes there may be a connection to Central Kentucky.
"It's kind of a center point, north, south, east, and west, you draw a big circle and Lexington is in the middle," he said.
Misty Gwinner, Lexington KY (MURDERED). One of the earliest cases on his web page is from Lexington. The body of 18-year-old Misty Gwinner was found on North Cleveland Road in 2005. She was last seen in Florence.
"And there was no person of interest, there was no suspect, there was nothing for these families to get some closure, it just kept happening," Warner said. Bill
Warner says he doesn't want to hinder any local investigations but believes some of the cases, including four of them from Kentucky, may be connected.
"I'm looking at 17 different girls who all look exactly alike, and every individual area, whether it's state police or local police, they all say the same thing, it's not connected to the others," he said.
"Maybe this needs national attention that all these young girls who look like they're all sisters have all just totally vanished without any kind of leads."
Warner says he hopes those leads come and that they bring answers to more than a dozen families.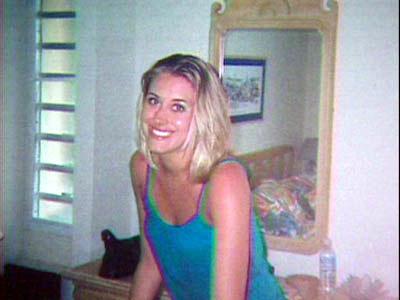 Petite blond Jennifer Kesse was kidnapped on the morning of Tuesday January 24th, 2006, see

http://jenniferkesse.com/

. Read following email I received from the father of Jennifer Kesse:
Bill,
Good morning, Drew Kesse here, Father of Jennifer Kesse,
www.findjenniferkesse.com
. I have been following your work on the young blonde girls missing around our country and the mystery behind them all. You have mentioned my daughter Jennifer a couples of times. I just wanted to put it out there that even after 8 yrs taken and over 1400 leads, Jennifer remains Vanished and has stumped over 150 LE professionals that have taken on her case from Orlando police to MBI, FBI, Interpol, and ICE. I will continue to follow your work to see if at anytime something comes up that may be similar in Jennifer's case although there are many as already. I am familiar with about 90% of the women's cases in your investigation and it is mind blowing how none of these girls cases have been solved. Put Jennifer's picture up there and it looks like they are all related so obviously someone out there loves blonde blue eyed young beautiful women. National attention for these girls as a group is definitely needed and hopefully you will be able to crack one or more of these cases and bring some relief to the families like mine who suffer everyday without answers.
We live in Bradenton so not that far from you. Keep up the pressure and work someday something will click! Thank you for caring and acting!!!
Bill Warner Private Investigator Sarasota Fl at
www.wbipi.com