Dozens of federal and local law enforcement agencies have heightened security in preparation for Sunday's Super Bowl, limiting access to New Jersey's MetLife Stadium and beefing up measures for mass transit in light of recent suicide bombings in Russia.
Despite no specific terror threats against the game, officials say suicide attacks on a trolleybus and a train station in Russia that killed more than 30 people within weeks of the Winter Olympics have raised worries among authorities, Reuters reported.
"Of particular concern to us is what was going on overseas in Volgograd in regard to the Sochi Olympics.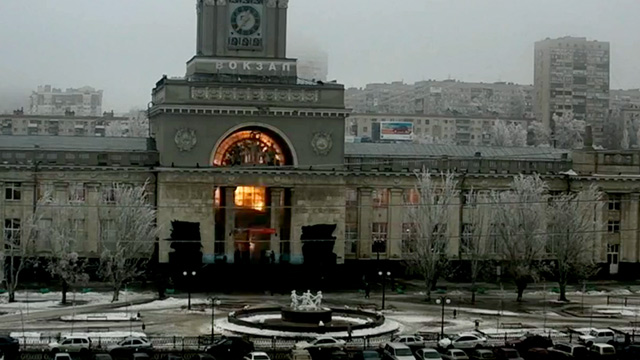 As you know both of those bombings were targeting mass transit," Col. Rick Fuentes, head of the New Jersey State Police, told reporters this week. "That is a concern with the mass transit; we've prepared ourselves for it." In Manhattan, the NYPD is drawing on its experience securing the annual New Year's Eve celebration in Times Square, the New York City Marathon, the U.N. General Assembly and other high-profile events to secure "Super Bowl Boulevard," a 13-block street fair on Broadway. The department has deployed hundreds of extra uniformed and plainclothes police officers to the area. It's also relying on bomb-sniffing dogs, portable radiation detectors and a vast network of surveillance cameras to detect trouble.
FOX Sports' Super Bowl Broadcast Center on Super Bowl Boulevard. FOX Sports commissioned a three-story broadcast center at the top of Super Bowl Boulevard for coverage of Super Bowl XLVIII - the largest non-permanent structure ever erected in Times Square.
The 65' tall, 40' by 40' building is a fully functional broadcast facility, completely climate-controlled, that serves as the

New York City

broadcast base for FOX Sports' and other FOX Networks' Super Bowl coverage. The FOX Sports' Super Bowl Broadcast Center is located in front of the Double Tree Suites Hotel at 1568 Broadway, 47th Street New York City.
The week will culminate on game day when FOX Super Bowl Sunday will broadcast live from Times Square.
This impressive facility has 8,100 square feet of usable space, boasts a high-definition broadcast studio with south and north facing 10' by 20' windows for iconic views of the Boulevard. It also features a mini-football field on the roof complete with stadium-style lighting and Astroturf. On the outside of the building are two 12' x 22' PRG Nocturne LED video screens and the west wall is covered with a 30' by 20' PRG Nocturne LED screen located right next to Cleatus, FOX Sports animated robot that stands 16' tall and weighs 1,500lbs.
See live Times Square cam http://www.earthcam.com/usa/newyork/timessquare/?cam=tsstreet
TERRORISTS CONTINUE TO TARGET TIMES SQUARE:
In the May 2, 2010 image seen above taken from video a police officer approaches a vehicle containing a car bomb. He is reaching down to lift one of the red canisters on 45th Street near Broadway (7th Ave) in New York City's Times Square. Faisal Shahzad was convicted in the case.
Faisal Shahzad the suspect in the failed Times Square bombing pleaded guilty on June 21st 2010, an abrupt and expedited end to a terrorism case that extended to Pakistan and an Islamic militant group there. Mr. Shahzad recounted how and why he conceived the plot, traveling to Pakistan in 2009, joining the Taliban and receiving training in how to construct a bomb. "I want to plead guilty, and I'm going to plead guilty 100 times over," he said, "because until the hour the U.S. pulls its forces from Iraq and Afghanistan, and stops the drone strikes in Somalia and Yemen and in Pakistan, and stops the occupation of Muslim lands, and stops killing the Muslims, and stops reporting the Muslims to its government,
we will be attacking the U.S. (and Times Square NYC),
and I plead guilty to that."
Bill Warner Private Investigator Sarasota Fl at
www.wbipi.com