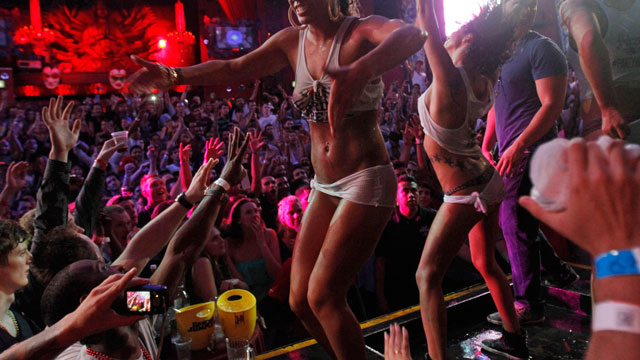 ISLA VISTA, Calif. –

About 100 people were arrested and at least 44 people were taken to the hospital during a weekend college party in Southern California that devolved into a rock- and bottle-throwing melee. The violence broke out in the densely populated beachside community of Isla Vista around 9:30 p.m. Saturday during the annual spring break party known as Deltopia, held near the University of California, Santa Barbara and attended by 15,000 people, the Santa Barbara County Sheriff's Office said. Sheriff's spokeswoman Kelly Hoover said things escalated after a campus police officer was hit in the face with a backpack filled with large bottles of alcohol.
Authorities said some members of the crowd began throwing rocks, bricks and bottles at officers, lighting fires and damaging law enforcement vehicles. "It was an emergency situation where we had to call in mutual aid," Hoover said. "They have had civil disturbances before in Isla Vista, but it has been many years since something like this." Authorities reported using tear gas, pepper spray and foam projectiles to disperse the surging crowd. One university officer and five deputies were injured, including one who was hit in the face with a brick and two others who were both hit in the hand with bottles, sheriff's deputies said. One will require surgery for his hand, Hoover said.
SIESTA KEY Fl

— A man was arrested after authorities say he shined a laser at a Sarasota County Sheriff's Office helicopter flying over Siesta Beach on Friday night.
The helicopter was called into assist Sarasota deputies who were breaking up several fights that had broken out among a group of more than 500 people, many of them juveniles, partying on the beach around 11:45 p.m., according to a media release.
The helicopter was using an infrared camera to monitor the activity when one of the people in the crowd began shining a green laser light onto the chopper and into its cockpit, the release states. Deputies operating the helicopter were able to direct deputies on the ground of the suspect, identified as 20-year-old Castaneda Aroldo.
Aroldo was arrested and charged with one felony count of misuse of laser lighting devices
.
Bill Warner Private Investigator Sarasota Fl at
www.wbipi.com