Moner Abu-Salha
who was living in Orlando Fl before he went to Syria, he also lived in Ft Pierce Fl and Vero Beach Fl and was 22 years old.
Records show that Mr. Abu-Salha lived in apartments in Fort Pierce and in a neighborhood of eastern Orlando, where residents said he moved out seven months ago in November 2013.
Moner Abu-Salha aka

Moner Mohammad Abu-Salha

attended a Mosque in Orlando Fl he is of
Jordanian-Palestinian origin, he was living whith his brother

Mahrous

Abu-Salha, 24, in eastern Orlando, FL when he was going to Keiser College
.
"Moner was a real activist. He was a full Muslim," Orlando Taylor said in a telephone interview. He said Abusalha attended Sebastian River High School, quit before graduating but then went on to earn his equivalency around 2008.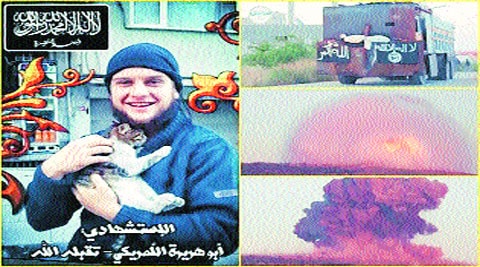 Moner Abu-Salha, who was named in postings to
social media websites
under the alias 'Abu Huraya Al-Amriki', was confirmed by two State Department officials in an interview with
CNN
as being from and having gone to school in Florida. He reportedly arrived in Syria late last year, December 2013, after leaving Orlando Fl, where he joined Al-Qaeda militants in the area.
Moner Abu-Salha had posted the Al-Qaeda Flag to his Facebook Page in April and June of 2012 while he was in Orlando Fl.
https://www.facebook.com/abusalhamoner?fref=photo#!/abusalhamoner
Orlando Taylor said that he attended a service at a mosque in Orlando once with Moner Abu-salha and that Abu-Salha would travel to take part in religious events, including "fast festivals in Florida," where participants go without eating for days during
Ramadan, the holiest month of their year. Ramadan is a time of devotion and fasting similar to the 40 days of Lent for Christians and the 10 High Holy Days for Jews. To fix their attention on spiritual matters, the faithful refrain from eating, drinking, smoking or sexual intercourse from sunup to sundown.
Did Moner Abu-Salha aka Moner Mohammad Abu-Salha attended the Mosque of

Imam Abu Taubah

in Orlando Fl?
Orlando Imam Abu Taubah Sent Terror Recruits to Al-Qaeda in Mauritania and Mali West Africa.
Marcus Dwayne Robertson aka Orlando Muslim Cleric Abu Taubah had a terrorist training program set up in Mauritania located in West Africa it shares a border with Mali at its east and Algeria at its northeast. Marcus Dwayne Robertson aka Muslim Cleric Abu Taubah was shipping terror recruits from Orlando Fl into Mauritania and then Mali for Al-Qaeda.
Imam Abu Taubah
's Mosque is the Masjid al-Ihsaan in eastern Orlando at 6620 Pershing Road Orlando Fl.
Hassan Shibly, director of the Florida chapter of the Council on American-Islamic Relations (CAIR) in Tampa Fl, said he knew nothing about Moner Abu-Sahla, yeah sure, I'll just bet he does.
Terrorist Moner
Abu-Salha withdrew from high school before graduating and later obtained his equivalency from St. James Academy Inc. in nearby Fort Pierce, Ms. Miller said. St. James confirmed Mr. Abu-Salha's graduation. He lived with his older brother for a while in Fort Pierce and later in Orlando, she said. Orlando Taylor, who was friends with Mr. Abu-Salha and his older brother in high school and later lived in Orlando when the two were there, said the younger sibling became more devoted to his religion in recent years. Most days, Mr. Abu-Salha wore a long robe. He would regularly read the Quran, sing passages from it and pray. "That became his priority," said Mr. Taylor, who accompanied Mr. Abu-Salha to a mosque on a few occasions. "He surounded his life around that."
Using the nom de guerre Abu Hurayra al-Amriki, Abu-Salha carried out one of four bomb attacks on May 25 in Syria's Idlib province on behalf of Jabhat al-Nusra, an al Qaeda affiliate fighting to oust the government of President Bashar al-Assad.
Terrorist dirtbag Moner Abu-Salha's identity was confirmed Friday night by the State Department. American law enforcement and intelligence agencies made the identification after analyzing intelligence from human sources in Syria and in foreign governments, and information gleaned from interviews with family members and friends of the bomber in Ft Pierce Florida, one official said.
The young American suicide bomber who blew up a truck he was driving in Syria last weekend previously lived in Fort Pierce, law enforcement sources told the Miami Herald on Friday.
The man, in his 20s and believed to have been the first American suicide bomber in Syria, was identified late Friday by the New York Times as Moner Mohammad Abu-Salha. He had previously been identified by his nom de guerre, Abu Hurayra al Ameriki, or Abu Hurayra the American.
It's unclear when he traveled to Syria or for how long before that he was in Fort Pierce, which is about 130 miles north of Miami.
Law enforcement officials were speaking Friday with the man's family and friends — some of them elsewhere in Florida — and tracing his movements, including his online activity, in the U.S. before he left for Syria. Federal authorities are investigating whether he was recruited or radicalized online.
In photos purportedly showing Abu Hurayra in Syria, he appears smiling, with a reddish-brown beard. In one photo, he is holding a cat.
Those photos, posted on jihadi websites, seem to match photos of a Facebook profile for Moner Abusalha, pictured in one of them standing in front of a beach.

In a martyrdom video released on YouTube, titled "The American Martyrdom for the Nusra Front," the suicide bomber could be seen praying, playing with cats and preparing for his apparent mission.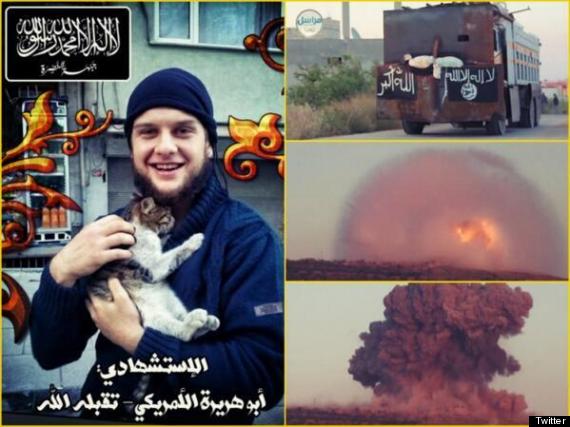 The video ends with a tremendous explosion that is said to have been from the bomb he detonated. Abu Farouk said the tape was authentic, but that could not be independently verified.
Bill Warner Private Investigator Sarasota Fl at
www.wbipi.com