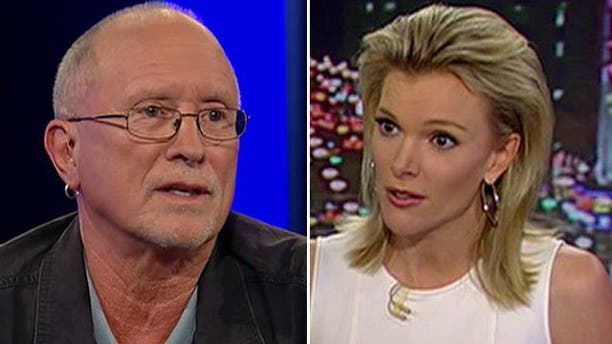 William Ayers, who went from leading the Weather Underground in the 1960s and early 1970s to becoming a celebrated academic at University of Illinois, sat down for a no-holds barred interview with Fox News Channel's Megyn Kelly, which will air Monday night June 30th, 2014. Unlike prior interviews with liberal media outlets, Kelly pressed Ayers on how his own girlfriend died with two others while building a nail-filled bomb intended to rip through a dance hall filled with U.S. soldiers, his current wife, once at the top of the FBI's most wanted list, claimed credit for bombing the home of a federal judge and his admission that he couldn't "rule out" conducting more terror activities against America.
Kelly also asked Ayers just how well he knows President Obama, who lived in the same Chicago neighborhood as Ayers and his wife, Bernadine Dohrn, prior to 1600 Pennsylvania Ave. The "Kelly File" exclusive airs at 9 p.m. ET on Monday.


BARACK OBAMA, BILL AYERS AND BERNARDINE DOHRN THE EARLY YEARS IN NEW YORK CITY & CHICAGO WITH THE SDS AND WEATHER UNDERGROUND PRECURSOR TO OCCUPY WALL ST MOVEMENT. Original Post Date Sunday, October 19, 2008, UPDATED March 10th, 2012.


Barack Obama arrived in New York City in August 1981, at age 20, from Occidental College in Los Angeles. His apartment was a six-story walk-up at 339 East 94th Street that has seen much over the decades; drugs, rats, police busts and at least one stabbing.
The following information is based upon news reports (i.e. NY Times) and open FBI files. In 1982, New York City, Barack Obama is attending Columbia Univ. and is residing about two blocks away from Weather Underground leader William Ayers on the Upper East side of Manhattan NY. Bill Ayers is attending Bank Street College on the other side of Central Park at West 112th Street going for his Masters in Early Childhood Education.
William Ayers' subsequent radical group, the Weather Underground, was comprised of many former SDS members; in 1969 the Weather Underground – then called simply "Weatherman" – declared "war on Amerika."
Mr. Armstrong's description of the firm, and those of other co-workers, differs at least in emphasis from Mr. Obama's. It was a small newsletter-publishing and research firm, with about 250 employees worldwide, that helped companies with foreign operations (they could be called multinationals) understand overseas markets, they said. Far from a bastion of corporate conformity, they said, it was informal and staffed by young people making modest wages.
Employees called it "high school with ashtrays."
After about a year, Obama was hired by the
New York Public Interest Research Group
, a nonprofit organization that promotes consumer, environmental and government reform. He became a full-time organizer at City College 160 Convent Ave at West 135th Street in Harlem NY, paid slightly less than $10,000 a year to mobilize student volunteers.
Bernardine Dohrn initially moved to New York City to work for the
National Lawyers Guild
in 1967,an
organization with which the Weather Underground and the Prairie Fire Organizing Committee have worked very closely is the National Lawyers Guild.
They are expected to send a delegation to the Middle East some time this year to meet with the Palestine Liberation Organization (PLO). This trip is being organized in coordination wnth the Palestine Solidarity Committee, a group closely linked to the Prairie Fire Organizing Committee.
FBI FILE ….Bernardine Dohrn led the Weatherman faction in the SDS fight and continued to be a leader afterward. In July 1969, Bernardine Dohrn, Ted gold, Carl Davidson, Robert "BO" Burlingham, Gerry Long, Eleanor Raskin, Diohne Donghi, Peter Clapp, Mary Wozniak, David Millstone and Diana Oughton, all representing "Weatherman", as Dohrn's faction was now called and hard core members of the SDS, traveled to Havana Cuba and met with representatives of the COMMUNIST North Vietnamese and Cuban governments for 8 full days.
FBI FILE HAVANA MEETING..The man who gave out orders to Bernardine Dohrn's Weatherman group to ramp up violence in the USA was Huynh Van Ba the Viet Cong's Chief Representative in Havana Cuba, SEE ABOVE. The Viet Cong's Huynh Van Ba also encouraged Dohrn's Weahteman group to organize draft resistance. Van Ba directed Dohrn to have some radicals volunteer for US military service and stir up antiwar sentiment from within the Armed Forces. Earlier an American Black nationalist in Cuba had urged black soldiers to kill white soldiers, this same technique is used today by Al-Qaeda, see
Army Maj. Nidal Malik Hasan Kills 13 in Shooting at Fort Hood Army base.
Did Bernardine Dohrn's Weatherman group receive explosive training during the 8 day meeting with the Viet Cong in Havana Cuba?
SDS was the precursor to the Weatherman Group which in turn has been reborn in the OCCUPY WALL STREET MOVEMENT, WHAT GOES AROUND COMES AROUND.
In June of 1969 Bernardine Dohrn met with Communist Cuban Intelligence officer Jose Viera at the Cuban Mission to the U.N. at East 67th Street New York NY, the following month (July) Dohrn led a SDS contingent to a meeting in Havana with Communist representatives from Cuba and North Vietnam. In the fall of 1969 the SDS dissolved and Bernardine Dohrn joined forces with Bill Ayers to start the Weathermen.
The Puerto Rican Solidarity Committee is the propaganda arm of the Puerto Rican Socialist Party and defends terrorist and other violent activities on behalf of Puerto Rican independence. During the last years of their underground life 1979 to 1980, Dohrn and Ayers resided in the Logan Square neighborhood of Chicago where they used the aliases Christine Louise Douglas and Anthony J. Lee.
Miss Dohrn, a former member of the Weather Underground, was one of several uncooperative witnesses subpoenaed by the Federal grand jury probing the aborted robbery in which two Nyack police officers and a guard were killed. After refusing to cooperate with a demand for samples of her handwriting, Miss Dohrn was cited for contempt and jailed on May 19, 1982. She could have been jailed until the grand jury's term expired, a maximum of 18 months.
Bernardine Dohrn was suspected of assisting those involved by obtaining false drivers' licenses for them. Bernardine Dohrn had listed an address of 520 West 123rd Street New York NY, two blocks above Columbia Univ. Teachers College. "November 27, 1980 A woman who has lived on the West Side of Manhattan for two years has been identified as Bernardine Dohrn, the fugitive leader of the radical Weather Underground".
Investigators tracked the identities on two licenses for the getaway cars. The names belonged to women who had shopped at Broadway Baby in December 1979. The manager of Broadway Baby during that period of the customer ID theft was Bernardine Dohrn (who at this time was underground with Bill Ayers and already had one child with him, a son, Zayd, in 1977), identified by investigators as taking customer information from one, and possibly both, of the women shoppers.
Dohrn was never charged in that case, it appears Dohrn was the "forger" for Weatherman bogus ID's. Bernardine Dohrn went to jail for six months rather than testify and provide a hand writing sample to a grand jury about the "1981 Brinks Robbery" matter in 1982. Only because her lawyer was able to convince the judge that Dohrn's "fanaticism" meant she would never testify was she finally released.
"The Brinks Robbery and Murders", On Tuesday the 20th of October 1981, in the village of Nanuet in Rockland County, a gang of armored-car bandits spectacularly hit a Brink's truck for $1.6 million, killing a guard and wounding two others. At a police roadblock a few minutes later, they opened fire on Nyack cops and killed two of them. A half-dozen or so of the bandits got past the immediate dragnet. A few others were nabbed at the scene. And one of them was 38-year-old Katherine Boudin, who, with Cathy Wilkerson 11 years earlier, had been seen fleeing the Village bomb factory, naked and screaming.
Barack Obama, Bill Ayers and Bernardine Dohrn are living in close proximity in Manhattan NY from about 1982 to at least 1984. Bernardine Dohrn moves to Chicago and from 1984 to 1988 Dohrn is employed by the prestigious Chicago Law firm Sidley & Austin, Bill Ayers apparantly stays at Columbia Univ. in New York City until Ed.D graduation in 1987. Michelle Obama joined Sidley & Austin as an associate in the fall of 1988. She had previously been a summer associate at Sidley & Austin—evidently in the summer of 1987 (when Dohrn was there).
The radical School reform movement had begun in 1987 in the wake of an unpopular strike by Chicago teachers. Bill Ayers was active in that reform effort through a group called the Alliance for Better Chicago Schools, or ABCs. ABCs was an alliance of various activists and reform groups that included the Developing Communities Project which Barack Obama headed up at the time as well as Chicago United, a business sector group, that was headed up by Thomas Ayers, father of Bill Ayers.
A month before the item appeared, on Nov. 20, 1997, Michelle Obama, then dean of student services and director of the University Community Service Center, held a panel at the University of Chicago that featured both Barack Obama and terrorist Bill Ayers.
It is unclear whether Obama knew the former fugitive Dohrn through Sidley & Austin but there is no doubt that, by the time Obama joined Sidley & Austin as a Summer associate, Obama had known Bill Ayers for at least two years through their involvement in Alliance for Better Chicago Schools in 1987…..Obama, 21 years involved with terrorist cop killers.
Once a Commie always a Commie.
Bill Warner
Private investigator
Bill Warner Private Investigator Sarasota Fl at
www.wbipi.com