Black Bloc Militant Protest Movement Will Rise Up Against President Donald Trump With Acts of Terrorism Claims PI Bill Warner. I have profiled the Black Bloc lunatic fringe protest movement since before the RNC in Tampa Fl in 2012. I have gone public with the news media in Tampa that resulted in me being called out and threatened by members of the Black Bloc and their pals at Antonymous, see video https://www.youtube.com/watch?v=83UdmEUCK08.
BAY NEWS 9 TAMPA RNC—
VIDEO…
ANONYMOUS THREAT: Message 2 RNC Activists F.B.I TPD & PI Bill Warner. Police are preparing for protesters during the Republican National Convention but an area private eye says everyone needs to know the potential danger of one group. The activist group "Anonymous" released a You-Tube video calling for action during the RNC and warning people not to listen to Sarasota Private Investigator Bill Warner. The video mentions Tampa Police Chief Jane Castor as well as Warner. "This is pretty bad. There's a lot of trouble coming our way," said Warner. He said he knows the group has been tracking him for a while primarily because he has spent the last six months tracking them.
LA TIMES April 2nd 2017... The Black Bloc movement first made its presence felt in California more than two decades ago, then built its forces amid the protests against the Iraq war. Out of the sea of largely peaceful antiwar demonstrators marching in San Francisco's Financial District in 2003, a more militant subgroup emerged.
Scorned by critics on both the left and right and hunted by police, the black bloc is bringing its radical tactics to the massive protest movement sparked by the presidency of Donald Trump. The masked militants went fist to fist with neo-Nazis at the state Capitol in June, where five of their allies were stabbed. Black bloc tactics also dogged Trump's inaugural ceremonies in Washington, leaving broken windows, vandalized banks and a torched limo. And early this month on the UC Berkeley campus, black bloc militants tore down police barricades, broke windows, started a fire and assaulted Trump supporters.
FOX NEWS April 15th, 2017 Police arrest at least 20 black bloc terrorists as protesters clash at pro-Trump rally in Berkeley. Officers on Saturday confiscated sticks, knives, flagpoles and helmets and sticks with signs on them. The charges for the 20 arrested "include arrests for assault with a deadly weapon and several other felony assaults," the Berkeley police said in a statement. Police also said in a statement that "more arrests will be pursued" after officials investigate social media and video footage. The rally followed March 4 demonstrations at the same park planned by some of the same groups and that ended in violent clashes. Several people were injured and police arrested 10 demonstrators.
Cleveland Black Bloc Terrorists Plotted to

Blow up Cuyahoga Valley National Park Bridge What's Next For Trump.

Back on May 1st, 2012, the FBI announced that 5 members of the Cleveland Black Bloc were arrested for attempting several acts of terrorism, see the photos of the dirtbags above, including the detonation of what they thought was an explosive device in an effort to destroy a local bridge, as well as an attack on the Federal Reserve Bank. The FBI arrested 5 Cleveland Black Bloc terrorists for plotting to blow up the Cuyahoga Valley National Park Bridge. The alleged terrorists repeatedly tried to blow up the bridge using C4 and cellphones. Brandon Baxter, Anthony Hayne, Joshua Stafford, Connor Stevens and Douglas Wright are "self-described anarchists," federal officials said.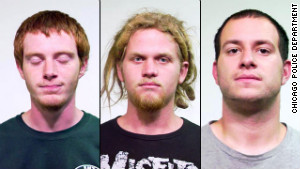 Black Bloc Terrorists, Three men charged with conspiring to commit domestic terrorism during the NATO summit were plotting to attack and fire bomb President Obama's Chicago campaign headquarters, the Chicago mayor's home and police stations, authorities said Saturday. A police investigation that began early this month revealed that the three suspects, Brian Church, 22, of Fort Lauderdale, Florida; Jared Chase, 27, of Keene, New Hampshire; and Brent Betterly, 24, Oakland, Fla., are "self-proclaimed anarchists" and members of the "Black Bloc" group who traveled together from Florida to Chicago to commit violence as a protest against the NATO summit, authorities said in a statement.
"did you ever see a cop on fire LOL".

Bill Warner Private Investigator Sarasota SEX, CRIME CHEATERS & TERRORISM at www.wbipi.com